Hello. I check by self, more info about CHCP command.
Reading the MSDN I found that in CONSOLE there are a two code pages: For the INPUT and for the OUTPUT.
Then, when you call to CHCP and provide a valid CODEPAGE, this utility set the same codepage for both: INPUT and OUTPUT.
But, when you call the CHCP command, chcp print the codepage of the INPUT assuming that it is the same of the OUPUT.
I write a little program in c for change the codepage of both. You can compile with tiny c for use it.
/*
codepage.c
Author: Carlos.
Date: 18 dec 2012
Examples of usage:
codepage
codepage IN 437 OUT 437
*/

#include <windows.h>
#define str_to_int(str) strtoul(str, (TCHAR **) NULL, 10)
                           
int main(int argc, char * argv[])
{
	UINT in_cp;
	UINT out_cp;
	
	/* Get the data */
	in_cp = GetConsoleCP();
	out_cp = GetConsoleOutputCP();
	
	if (argc == 3) {
		if ( ! _stricmp(argv[1], "IN") ) {
			in_cp = str_to_int(argv[2]);
		}
		else if ( ! _stricmp(argv[1], "OUT") ) {
			out_cp = str_to_int(argv[2]);
		}
	}
	else if (argc == 5) {
		if ( ! _stricmp(argv[1], "IN") ) {
			in_cp = str_to_int(argv[2]);
			if ( ! _stricmp(argv[3], "OUT") ) {
				out_cp = str_to_int(argv[4]);
			}
		}
		else if ( ! _stricmp(argv[1], "OUT") ) {
			out_cp = str_to_int(argv[2]);
			if ( ! _stricmp(argv[3], "IN") ) {
				in_cp = str_to_int(argv[4]);
			}
		}
	}
	SetConsoleCP(in_cp);
	SetConsoleOutputCP(out_cp);
	/* Ensure valid code pages */
	in_cp = GetConsoleCP();
	out_cp = GetConsoleOutputCP();
	
	/* Print the information */
	printf("IN=%u OUT=%u\n", in_cp, out_cp);
	
	return 0;
}
This is a screenshot of the usage and use of file with name ascii 219.txt and get your conclusions: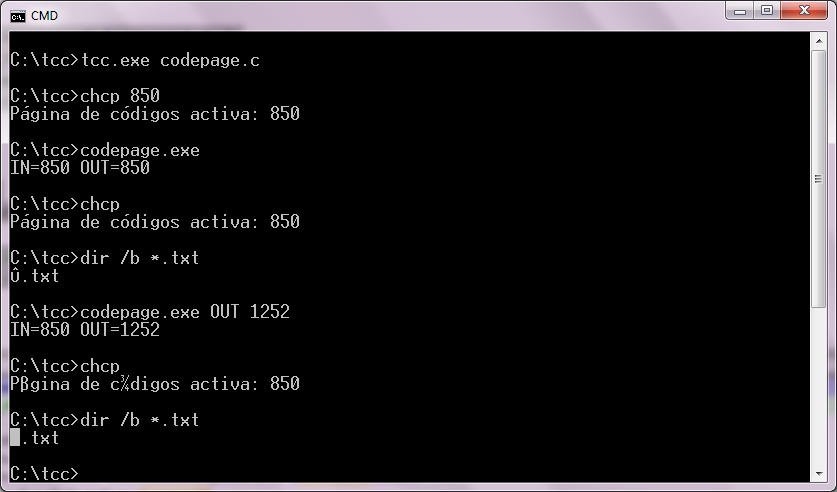 Last edited by carlos (18 Dec 2012 06:55)